What is Difference between British Citizenship & ILR
---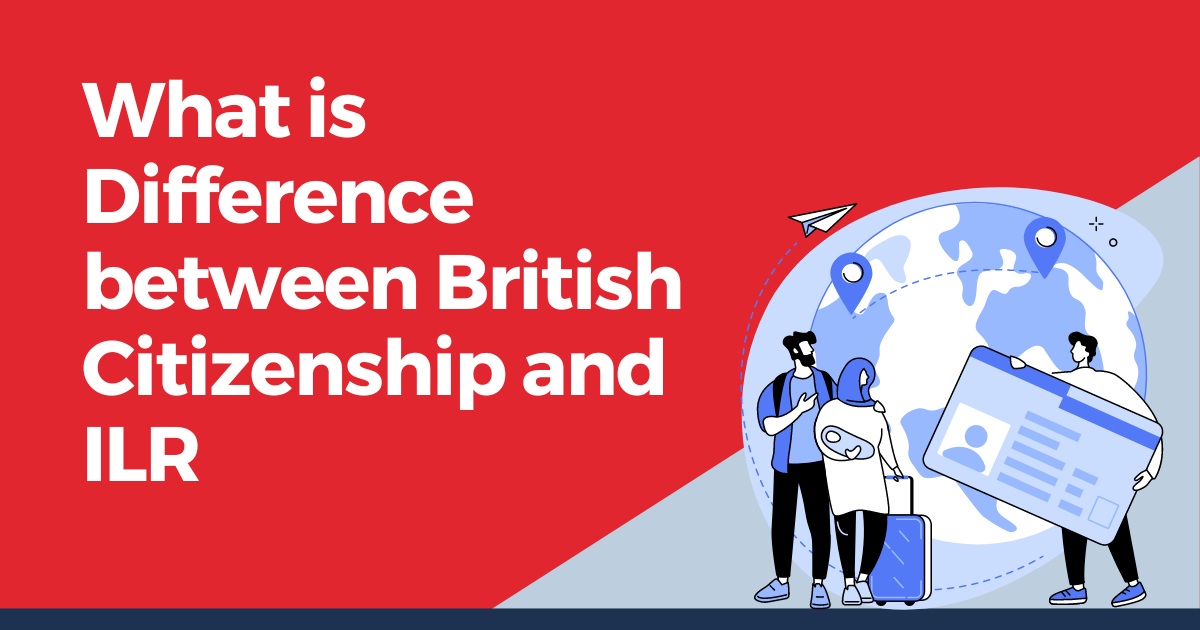 Studying immigration and residency status in the United Kingdom can be challenging especially when it comes to understanding the differences between British Citizenship & ILR. Both of these statuses come with their own benefits but ILR has certain limitations to it. Here we will discuss ILR and British Citizenship in detail and give you a clear understanding of each status.
What is an ILR?
ILR is also known as Indefinite Leave to Remain. It is the foundation of the settlement and comes with a significant milestone. ILR allows you to seek long-term residency It also provides you with the freedom to work in the UK without any time restrictions. It is a stepping stone towards achieving British Citizenship but comes with its criteria.
You are an eligible candidate for ILR, if you meet the following requirement:
You must have lived in the UK for five years, under a qualifying visa category
You should have a valid visa category such as a work visa, family visa, or other eligible routes
You need to hold a certain level of proficiency in English
You should meet the financial requirement so that you can support yourself without relying on public funds
You should have no criminal record and demonstrate good character in the society
You shouldn't stay outside of the UK for more than 2 years
Benefits and Limitations of ILR
ILR offers many benefits. You can get access to public services, healthcare, education, and social benefits in the UK. You also get the freedom to work and reside in the UK with no time limitation. Having an ILR can also allow your family to apply for a UK visa. However, there are certain limitations to it e.g. you can't vote and hold certain public offices. If you stay outside the UK for more than two years, you will lose your settlement status. You also need to apply for a Returning Resident Visa to live in the UK and reinstate the ILR status.
British Citizenship and its Benefits
British Citizenship is also called naturalization. It gives more freedom than ILR and allows you to fully integrate into British society. Through British Citizenship, you get all the privileges, rights, sense of belonging and identity. It also means that you can get a British passport, hold public office, get the right to vote, and live outside the UK without losing your Citizenship status.
Eligibility and Criteria
Following candidates can apply for British Citizenship
The age of candidate must be 18-65
Candidate should pass Life in the UK Test
Candidate should have an ILR one year
Candidate should have no serious criminal convictions
Applying for British Citizenship
To achieve this status, you need to pass the Life in the UK Test. Visit the official website, make your account, upload your documents and choose the test date and test center. For exam preparation, you can get help from the book Life in the United Kingdom: A Guide for new residents, 3rd Edition. It will give you an idea about the topics that you will prepare for the test.
Choosing the Right Path
The decision between ILR and British Citizenship depends on your long-term goals. If you want to hold a settled status and want to enjoy most of the benefits of residency, ILR might be suitable. However, if you want to have all the rights of a British citizen, and pursue full integration and civic participation, then British Citizenship is the path to take.
RELATED POSTS